PE lined fiberglass reinforced polyester tank with unequalled strength and durability equipped with side-mount 6-way valve.
Made of fibreglass and polyester (DSM resin). Internal PE lining
Top diffuser ensures even distribution of water over the top of the sand bed
The non-corrosive materials are suitable for all-weather performance
Easy-to-use multi-port valve lets you select any of the valves/filter operations with a simple lever-action
With easy assembling ring-lock transparent lid (complete with spinners)
UV resistant surface allows the filter to work under direct sunlight
Model
S450

S500R

S650R

S700R

S800R

Diameter
455 mm
535 mm
635 mm
710 mm
820 mm
Connection

50 mm / 1 1/2"

63 mm / 2"
Filter dimensions

A - 730 mm
B - 455 mm
C - 420 mm
D - 360 mm

A - 770 mm




B - 535 mm




C - 450 mm




D - 390 mm

A - 850 mm




B - 635 mm




C - 490 mm




D - 430 mm

A - 890 mm




B - 723 mm




C - 607 mm




D - 520 mm

A - 1050 mm
B - 820 mm
C - 620 mm
D - 560 mm

Size of the pool

40 m³

60 m³

80 m³

100 m³

125 m³

Maximum pressure

2,5 bar

Flow
8 m3/h
11 m3/h
15 m3/h
19 m3/h
24 m3/h
Operating temperature
1-43°C
Bed volume (sand 0.4-0.8mm)

45 kg

85 kg

145 kg

210 kg

355 kg

Net weight

12 kg

23 kg

25,5 kg

28 kg

32,2 kg

Guarantee
24 months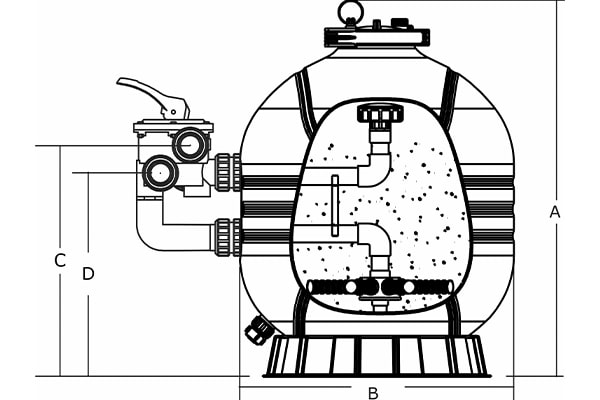 Potrzebujesz pomocy?
Jeśli nie znalazłeś odpowiedzi na swoje zapytanie, skorzystaj z formularza poniżej i napisz jak możemy Ci pomóc? Zapewniamy szybki kontakt i kompleksową obsługę.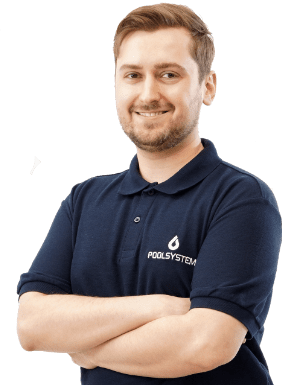 Tomasz Tomkowicz
Specjalista Technologii Basenowej
Dziękuję, że przeczytałeś nasz artykuł, jeżeli masz więcej pytań lub potrzebujesz bardziej specjalistycznej pomocy - napisz do mnie korzystając z formularza.
Jestem bardzo zadowolona z usług tej firmy. Każdy nam odmawiał pomocy, nawet firma montująca basen. Pool system zjawił się i doprowadził basen sprzed paru lat do stanu używalności, co więcej dokonał napraw uszczelniających co spowodowało ze basen stał się w pełni sprawny. Naprawdę polecam !
Bardzo miła i sympatyczna obsługa oraz fachowe doradztwo techniczne.
Bardzo profesjonalna i cierpliwa obsługa. Odbierają telefony, wszystko dokładnie wytłumaczą, wysyłają   praktycznie na drugi dzień  każdą część którą potrzebuje klient. Pan Krzysztof z serwisu rzetelnie podpowie co zrobić i jak rozwiązać swój basenowy problem, jeśli chcemy majstrować przy basenie sami. Pan Paweł i Marcin też skarbnica wiedzy technologii basenowej. Dobre ceny. Polecam firmę i pozdrawiam zespół POOLSYSTEM
Jak budujesz basen to to miejsce jest dla ciebie, osprzęt, doradztwo i miła obsługa.
Super obsługa doradzi pomoże,ceny na duży plus .Polecam
Bardzo mili ludzie, to naprawdę profesjonaliści. Nie lubię zakupów, ale spotkanie z Nimi było bardzo przyjemne.