Hewalex PCWB Pool Heat Pump
The HEWALEX pool air-to-water heat pump is designed for direct connection to the pool water process circuit. It is used to heat the water, as well as to cool it if necessary. The heat pump is installed outside the building, and its design allows for easy disassembly after the pool use season. PCWB heat pumps are used for seasonal water heating in both private and public pools. The use of a heat pump makes it possible to extend the life of an outdoor pool up to 5-6 months per year, providing the required water temperature at low operating costs. The PCWB heat pump can be used for any type of swimming pool, whether it is of solid construction, or for a frame pool, inflatable pool, etc.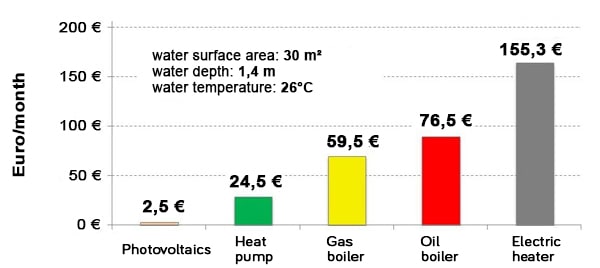 Savings associated with heat pump heating:
The Hewalex pool air-to-water heat pump type PCWB ensures low pool water heating costs. They are higher only than the operating costs of a solar system, while the heat pump provides increased comfort of using the pool due to less dependence on sunlight. For example, for an outdoor swimming pool with a mirror area of 30m2 and a depth of up to 1.4 meters, the operating costs should not exceed EUR 25 gross for a heat pump. This is nearly 2.5 times less with a condensing gas boiler, more than 3 times less than with an oil boiler and 6 times less with direct electric heating.
Connecting a swimming pool heat pump
In most cases, the use of a PCWB heat pump requires minimal intervention in the pool water circuit. The materials used and the design of the heat exchanger (condenser) allow the water to flow directly through the heat pump. The low flow resistance of the condenser in most cases allows the use of the existing circulation pump. The heat pump is incorporated into the pool water circuit after the filtration equipment and before the chemical dispenser.
In the existing system, the PCWB heat pump is switched on between the filter (2) and a possible water treatment device (4). The system should be expanded with two tees and a valve that regulates the flow between them (3). This creates a so-called bypass. Only a part of the pool water (usually 20-50%) flows through the heat pump, which allows to increase the temperature difference between the supply and output of the heat pump, and also to preserve the existing circulation pump (1). A bypass (3) of the pool water additionally allows the heat pump to be disconnected from the water circuit during filter cleaning (2), or during maintenance and service work on the heat pump itself.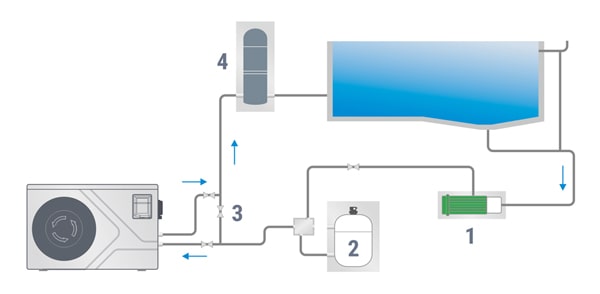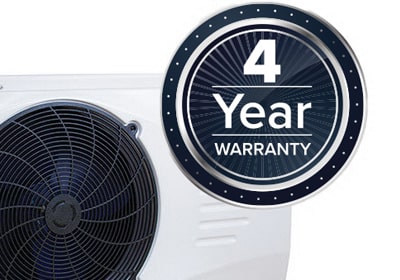 4-year warranty as standard
Hewalex PCWB pool heat pumps come with a standard 4-year warranty, which goes beyond the standard terms and conditions provided on the market for this type of equipment. Included in the warranty terms and conditions is an installation checklist, which was created to ensure a high-quality heat pump installation.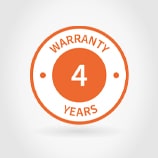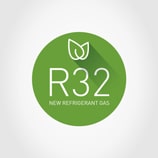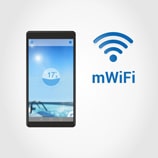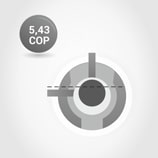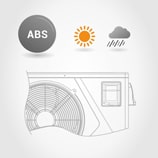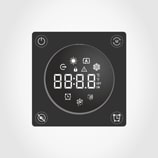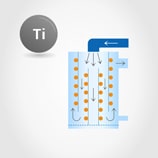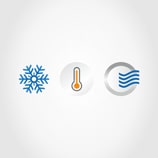 Typ
PCWB 5,4 kW

PCWB 7,6 kW

PCWB 10,0 kW

PCWB 13,0 kW

PCWB 16,0 kW

Recommended pool volume
15 - 25 m³

20 - 35 m³

30 - 45 m³

35 - 60 m³

40 - 80 m³
Minimum water flow
2,2 m³/h
3,0 m³/h
4,5 m³/h
5,3 m³/h
6,0 m³/h
Heating power
(EN 14511, A27/W26)
5,3 kW
7,5 kW
10,4 kW
13,5 kW
14,6 kW
Efficiency COP
(EN 14511, A27/W26)
5,64
5,86
5,68
5,67
5,98
Outdoor temperature range
-7°C to 43°C, optimal operating conditions from 10°C, attention - do not allow water in the condenser to freeze
Maximum water temperature in heating mode
40°C
Compressor type
single-stage rotary Hitachi

Refrigerant type
R32
Power supply
230 V, 50 Hz
Power supply cable
3x1,5mm² (3x2,5mm²)
3x2,5mm² (3x4mm²)
3x2,5mm² (3x4mm²)
3x2,5mm² (3x4mm²) 
3x2,5mm² (3x4mm²)
Overcurrent protection
C10 (C25) 
C16 (C25)
C16 (C25)
C16 (C25)
C16 (C25)
Power consumption
0,94kW
1,28kW
1,83kW
2,38kW
2,44kW
Dimensions 
800x340x575 mm
1001x418x605 mm
1163x490x862 mm
Water connections
50 mm
Net weight
36 kg
52 kg
57 kg
62 kg
80 kg

Pool Heat Pump Hewalex PCWB

Built-in WiFi module

Vibroisolators

Instruction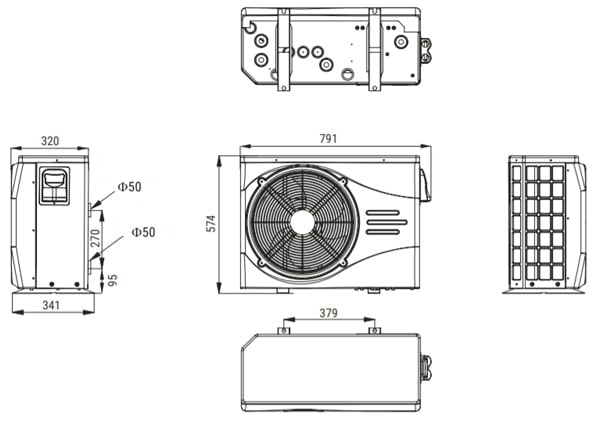 Need help?
If you have not found the answer to your inquiry, please use the form below and write how we can help you?. We provide quick contact and comprehensive service.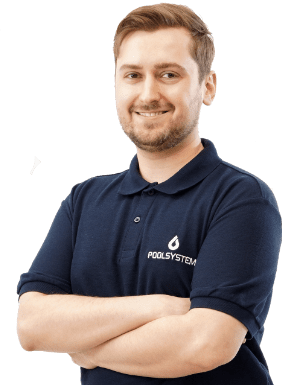 Tomasz Tomkowicz
Pool Technology Specialist
Thank you for reading our article, if you have more questions or need more specialized help - write to me using the form.
Jestem bardzo zadowolona z usług tej firmy. Każdy nam odmawiał pomocy, nawet firma montująca basen. Pool system zjawił się i doprowadził basen sprzed paru lat do stanu używalności, co więcej dokonał napraw uszczelniających co spowodowało ze basen stał się w pełni sprawny. Naprawdę polecam !
Bardzo miła i sympatyczna obsługa oraz fachowe doradztwo techniczne.
Bardzo profesjonalna i cierpliwa obsługa. Odbierają telefony, wszystko dokładnie wytłumaczą, wysyłają   praktycznie na drugi dzień  każdą część którą potrzebuje klient. Pan Krzysztof z serwisu rzetelnie podpowie co zrobić i jak rozwiązać swój basenowy problem, jeśli chcemy majstrować przy basenie sami. Pan Paweł i Marcin też skarbnica wiedzy technologii basenowej. Dobre ceny. Polecam firmę i pozdrawiam zespół POOLSYSTEM
Jak budujesz basen to to miejsce jest dla ciebie, osprzęt, doradztwo i miła obsługa.
Super obsługa doradzi pomoże,ceny na duży plus .Polecam
Bardzo mili ludzie, to naprawdę profesjonaliści. Nie lubię zakupów, ale spotkanie z Nimi było bardzo przyjemne.