The intuitive and easy-to-use hand-held tester is used to measure pH and active oxygen for use in private pools to ensure the quality of the pool water enabling it to be used safely.

The ergonomic design with special shape and texture ensures a secure grip.

Range of measurements with the Lovibond pH/O2 tester:
Active oxygen: 0.0 - 10.0 mg/l (ppm)
pH: 6.8 - 8.2
The kit on offer includes:
Plastic box in blue,
Tester (two-chamber measuring cuvette),
20 DPD 4 Rapid tablets to measure ative oxygen,
20 Phenol Red Rapid tablets for pH measurement,
User manual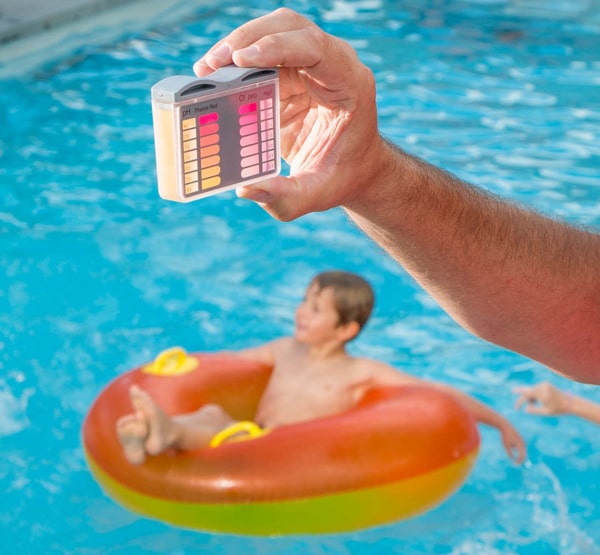 Rinse the tester and fill with pool water
Place a DPD 4 Rapid tablet in the O2 chamber and a Phenol Red Rapid tablet in the pH chamber
Tightly close the lid of the two-chamber measuring cuvette
Mix the contents and dissolve the tablets completely
Compare the colour of the resulting solution with the tester scale for measurement
The tester should be emptied and rinsed after use
Tabletki do fotometrów i testerów ręcznych
Tabletki do fotometrów i testerów ręcznych
Tabletki do fotometrów i testerów ręcznych
Potrzebujesz pomocy?
Jeśli nie znalazłeś odpowiedzi na swoje zapytanie, skorzystaj z formularza poniżej i napisz jak możemy Ci pomóc? Zapewniamy szybki kontakt i kompleksową obsługę.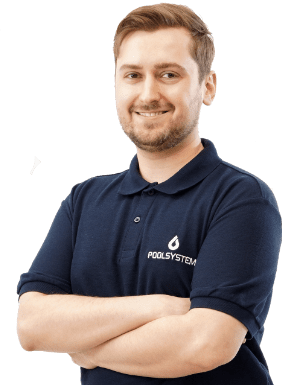 Tomasz Tomkowicz
Specjalista Technologii Basenowej
Dziękuję, że przeczytałeś nasz artykuł, jeżeli masz więcej pytań lub potrzebujesz bardziej specjalistycznej pomocy - napisz do mnie korzystając z formularza.
Jestem bardzo zadowolona z usług tej firmy. Każdy nam odmawiał pomocy, nawet firma montująca basen. Pool system zjawił się i doprowadził basen sprzed paru lat do stanu używalności, co więcej dokonał napraw uszczelniających co spowodowało ze basen stał się w pełni sprawny. Naprawdę polecam !
Bardzo miła i sympatyczna obsługa oraz fachowe doradztwo techniczne.
Bardzo profesjonalna i cierpliwa obsługa. Odbierają telefony, wszystko dokładnie wytłumaczą, wysyłają   praktycznie na drugi dzień  każdą część którą potrzebuje klient. Pan Krzysztof z serwisu rzetelnie podpowie co zrobić i jak rozwiązać swój basenowy problem, jeśli chcemy majstrować przy basenie sami. Pan Paweł i Marcin też skarbnica wiedzy technologii basenowej. Dobre ceny. Polecam firmę i pozdrawiam zespół POOLSYSTEM
Jak budujesz basen to to miejsce jest dla ciebie, osprzęt, doradztwo i miła obsługa.
Super obsługa doradzi pomoże,ceny na duży plus .Polecam
Bardzo mili ludzie, to naprawdę profesjonaliści. Nie lubię zakupów, ale spotkanie z Nimi było bardzo przyjemne.
Intuicyjny i prosty w obsłudze tester ręczny służy do pomiaru odczynu pH oraz tlenu aktywnego do użytku w basenach prywatnych w celu zapewnienia odpowiedniej jakości wody basenowej umożliwiając jego bezpieczne użytkowanie.
Ergonomiczna budowa o specjalnym kształcie i fakturze zapewnia pewny chwyt.
Zakres pomiarów z użyciem testera pH/O2 Lovibond:
Tlen aktywny: 0,0 - 10,0 mg/l (ppm)
pH: 6,8 - 8,2
W skład oferowanego zestawu wchodzą:
Plastikowe pudełko w niebieskim kolorze,
Tester (dwukomorowa kuweta do pomiarów),
20 tabletek DPD 4 Rapid do pomiaru atywnego tlenu,
20 tabletek Phenol Red Rapid do pomiaru odczynu pH,
Instrukcja obsługi
Tabletki do fotometrów i testerów ręcznych
Tabletki do fotometrów i testerów ręcznych
Tabletki do fotometrów i testerów ręcznych