We are pleased to present you with an absolute novelty in pool water disinfection technology. It combines the best features of amalgam and medium-pressure units in a single device. At the same time, the disadvantages of medium-pressure equipment (low efficiency, short service life of the radiant heaters, mechanical cleaning of casing pipes, 5 voltages) are not present. A breakthrough is the use of amalgam radiant heaters with two radiation ranges. The irradiators in the devices emit radiation lengths of 185 and 254 nanometres. The characteristic feature is the significantly increased efficiency of chloramine removal. In addition, the 185 nanometre wavelength produces ozone in the air contained in the water. The presence of ozone in the water further increases the disinfection efficiency. At the same time, the amount of ozone generated does not exceed the permissible standards for the amount of ozone at the water inlet to the swimming pool basin.
Model: TMA AP-Pool-1
Nominal flow: 22.50 m3/h
(at transmission rate T 10= 95%, dose rate 400 J/m2 )
Connection diameter: DN80
Number of radiant heaters: 1 x Amalgam
Radiant durability:: 12000 h
185 nm radiation has 37% more energy than 254 nm radiation. This combines the advantages of the most effective bactericidal disinfection with 254 nanometre radiation and the extremely effective removal of chloramines with 185 nm radiation.
The UV disinfection unit is made entirely of acid-resistant steel, hand-polished to a mirror finish. The surface quality exceeds European and American standards. The body of the unit undergoes thorough mechanical treatment (polishing). After assembly, it undergoes chemical treatment (to further increase resistance to chemical agents) and is then hand-polished again. The precision and quality of the unit's welds are of the highest quality. No welds are ground for strength reasons (grinding masks the low-precision welding). Each steriliser undergoes pressure leakage tests. The design and size of the casing pipes ensures low operating temperatures on the outer surfaces of the casing pipes (below 55 'C) which protects them from the formation of calcium and magnesium deposits (commonly known as scale deposits). The absence of scale deposits on the pipes has been confirmed in more than 14 years of equipment operation. No scale deposits have been found on the casing pipes in any of the units installed in the various installations.
Potrzebujesz pomocy?
Jeśli nie znalazłeś odpowiedzi na swoje zapytanie, skorzystaj z formularza poniżej i napisz jak możemy Ci pomóc? Zapewniamy szybki kontakt i kompleksową obsługę.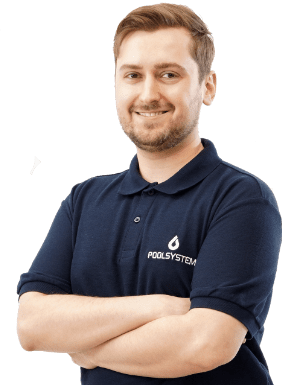 Tomasz Tomkowicz
Specjalista Technologii Basenowej
Dziękuję, że przeczytałeś nasz artykuł, jeżeli masz więcej pytań lub potrzebujesz bardziej specjalistycznej pomocy - napisz do mnie korzystając z formularza.
Jestem bardzo zadowolona z usług tej firmy. Każdy nam odmawiał pomocy, nawet firma montująca basen. Pool system zjawił się i doprowadził basen sprzed paru lat do stanu używalności, co więcej dokonał napraw uszczelniających co spowodowało ze basen stał się w pełni sprawny. Naprawdę polecam !
Bardzo miła i sympatyczna obsługa oraz fachowe doradztwo techniczne.
Bardzo profesjonalna i cierpliwa obsługa. Odbierają telefony, wszystko dokładnie wytłumaczą, wysyłają   praktycznie na drugi dzień  każdą część którą potrzebuje klient. Pan Krzysztof z serwisu rzetelnie podpowie co zrobić i jak rozwiązać swój basenowy problem, jeśli chcemy majstrować przy basenie sami. Pan Paweł i Marcin też skarbnica wiedzy technologii basenowej. Dobre ceny. Polecam firmę i pozdrawiam zespół POOLSYSTEM
Jak budujesz basen to to miejsce jest dla ciebie, osprzęt, doradztwo i miła obsługa.
Super obsługa doradzi pomoże,ceny na duży plus .Polecam
Bardzo mili ludzie, to naprawdę profesjonaliści. Nie lubię zakupów, ale spotkanie z Nimi było bardzo przyjemne.