Lovibond Phenol Red tablets for the photometer - for measuring the pH of swimming pool water
Potrzebujesz pomocy?
Jeśli nie znalazłeś odpowiedzi na swoje zapytanie, skorzystaj z formularza poniżej i napisz jak możemy Ci pomóc? Zapewniamy szybki kontakt i kompleksową obsługę.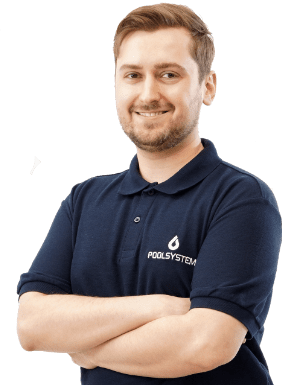 Tomasz Tomkowicz
Specjalista Technologii Basenowej
Dziękuję, że przeczytałeś nasz artykuł, jeżeli masz więcej pytań lub potrzebujesz bardziej specjalistycznej pomocy - napisz do mnie korzystając z formularza.
Jestem bardzo zadowolona z usług tej firmy. Każdy nam odmawiał pomocy, nawet firma montująca basen. Pool system zjawił się i doprowadził basen sprzed paru lat do stanu używalności, co więcej dokonał napraw uszczelniających co spowodowało ze basen stał się w pełni sprawny. Naprawdę polecam !
Bardzo miła i sympatyczna obsługa oraz fachowe doradztwo techniczne.
Bardzo profesjonalna i cierpliwa obsługa. Odbierają telefony, wszystko dokładnie wytłumaczą, wysyłają   praktycznie na drugi dzień  każdą część którą potrzebuje klient. Pan Krzysztof z serwisu rzetelnie podpowie co zrobić i jak rozwiązać swój basenowy problem, jeśli chcemy majstrować przy basenie sami. Pan Paweł i Marcin też skarbnica wiedzy technologii basenowej. Dobre ceny. Polecam firmę i pozdrawiam zespół POOLSYSTEM
Jak budujesz basen to to miejsce jest dla ciebie, osprzęt, doradztwo i miła obsługa.
Super obsługa doradzi pomoże,ceny na duży plus .Polecam
Bardzo mili ludzie, to naprawdę profesjonaliści. Nie lubię zakupów, ale spotkanie z Nimi było bardzo przyjemne.