Tebas Batory II pool sand filter manufactured in Spain by specialists who have been producing filters for 30 years. Now you have an alternative to commercial-corporate products. The handmade method of production, the commitment and passion put into the manufacturing process guarantees high quality, good price, functionality and long service life.

The Batory II is a laminated polyester filter set on a vibration-damping base. It has a pressure gauge located in the lid to prevent accidental damage. The filter cover is screwed into the thread - no metal threads molded into the tank body. The Batory II has a long service life, estimated at around 12-16 years. The manifold tubes and top manifold, manufactured in Germany, are very durable and resistant.

The filter can also be used on saltwater pools.

The set includes: Praher valve, pressure gauge, connections, instructions.

Easy to assemble, the filter is already glued together, fitted on the valve machine. All you need to do is screw it on.

The sand bed should be replaced every 1-2 years; if an AFM activated glass bed is used in the filter, this can be done every 8-10 years.
Model
50000-II

50002-II

50004-II

50006-II

Diameter
510 mm
620 mm
750 mm
900 mm
Connection size

1 1/2"

1 1/2"

2"

2"

Filter dimensions

A - 790mm
B - 510mm
C - 350mm
D - 475mm

A - 860mm
B - 620mm
C - 400mm
D - 525mm

A - 1020mm
B - 750mm
C - 455mm
D - 595mm

A - 1020mm
B - 900mm
C - 455mm
D - 595mm

Size of the pool

50 m³

60 m³

75 m³

90 m³

Operating pressure

0,5 - 1,5 kg/cm²

Maximum pressure
2 kg/cm²
Test pressure
3 kg/cm²
Operating temperature
1-40°C

Amount of bed
(sand 0.4-0.8mm)

100 kg

150 kg

225 kg

325 kg

Net weight


18 kg

23,5 kg

33 kg

42 kg

Guarantee
24 months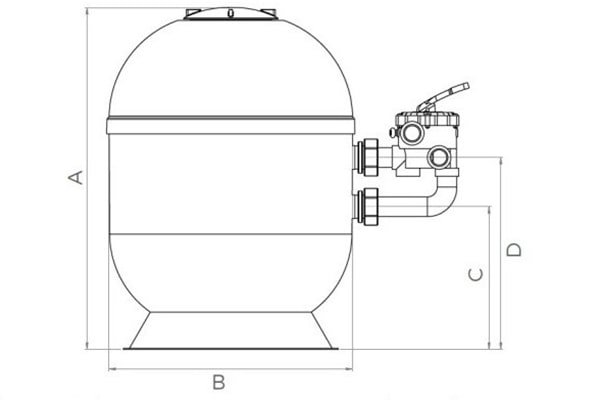 Potrzebujesz pomocy?
Jeśli nie znalazłeś odpowiedzi na swoje zapytanie, skorzystaj z formularza poniżej i napisz jak możemy Ci pomóc? Zapewniamy szybki kontakt i kompleksową obsługę.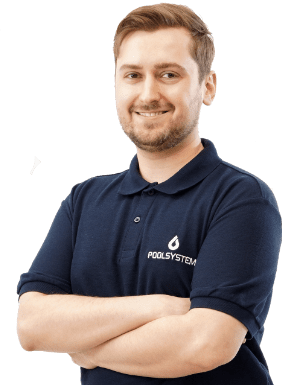 Tomasz Tomkowicz
Specjalista Technologii Basenowej
Dziękuję, że przeczytałeś nasz artykuł, jeżeli masz więcej pytań lub potrzebujesz bardziej specjalistycznej pomocy - napisz do mnie korzystając z formularza.
Jestem bardzo zadowolona z usług tej firmy. Każdy nam odmawiał pomocy, nawet firma montująca basen. Pool system zjawił się i doprowadził basen sprzed paru lat do stanu używalności, co więcej dokonał napraw uszczelniających co spowodowało ze basen stał się w pełni sprawny. Naprawdę polecam !
Bardzo miła i sympatyczna obsługa oraz fachowe doradztwo techniczne.
Bardzo profesjonalna i cierpliwa obsługa. Odbierają telefony, wszystko dokładnie wytłumaczą, wysyłają   praktycznie na drugi dzień  każdą część którą potrzebuje klient. Pan Krzysztof z serwisu rzetelnie podpowie co zrobić i jak rozwiązać swój basenowy problem, jeśli chcemy majstrować przy basenie sami. Pan Paweł i Marcin też skarbnica wiedzy technologii basenowej. Dobre ceny. Polecam firmę i pozdrawiam zespół POOLSYSTEM
Jak budujesz basen to to miejsce jest dla ciebie, osprzęt, doradztwo i miła obsługa.
Super obsługa doradzi pomoże,ceny na duży plus .Polecam
Bardzo mili ludzie, to naprawdę profesjonaliści. Nie lubię zakupów, ale spotkanie z Nimi było bardzo przyjemne.