About Fairland Comfortline Inverter Pumps:
Fairland Comfortline Inverter pool heat pumps are slightly more expensive than classic On/Off heat pumps, but are more energy-efficient because they match the output (i.e., speed) of both the compressor and fan to the heat demand by the pool water. They turn on/off less frequently, so they do not generate unnecessary energy losses.
They are mainly designed to operate at average efficiencies of 50%, leading to a high cooling coefficient of performance (COP), low noise levels, and ensuring long pump life.

TUV Rheinland Certification
Fairland pool heat pumps are certified after testing by the German certification body TUV Rheinland and fully comply with EU regulations given in EN14511.

WiFi module for free !
For each Fairland pump you will receive a Wifi module in the price.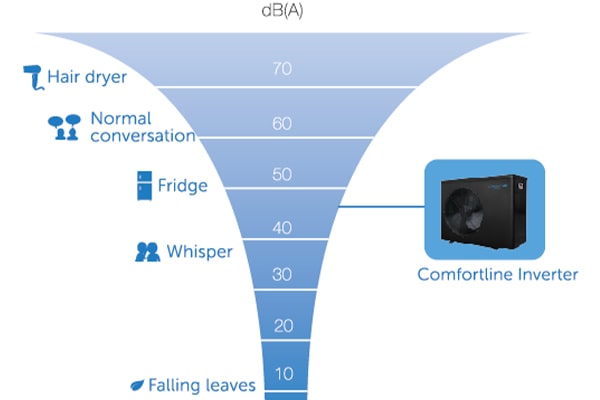 High COP, quiet operation
The concept of COP (Coefficient of Per-formance) cooling efficiency requires explanation. This is the ratio of the heating power given off to the power consumed by the pump. For example, if the COP is 8, and the pump draws 1 kW of power, it gives up 8 times the heating power, or 8 kW.
This coefficient is variable and the higher it is, the higher the air temperature and the lower the efficiency of the heat pump.
Comfortline Inverter pool heat pumps achieve a COP of 11.2 - 5.6 at A260C/W260C/H80% (air / water temperature / relative humidity) and a COP of 4.1- 6.2 at A150C /W260C / H70%. These are very favorable parameters to ensure low pool heating costs.
In order to reduce noise and vibration, the heat pump should be placed on the foundation through vibration isolators, and in order to reduce heat loss, especially at lower air temperatures, the pipelines bringing water from the pool to the pump should be thermally insulated.
Principle of Comfortline Inverter heat pumps:
Comfortline Inverter are air pumps, or more specifically, air-to-water pumps, and use atmospheric air as the lower source (from which heat is extracted).
These pumps are "monoblock" pumps, i.e. compact pumps that contain all components in a single housing. This makes the installation of the pumps very simple, with the additional investment cost of purchasing PVC mm pipes, fittings and valves and connecting the device to the pool filtration system.
Low flow resistance in the condenser, or titanium heat exchanger, in which the pool water is heated, makes it possible to use the existing pool filter pump.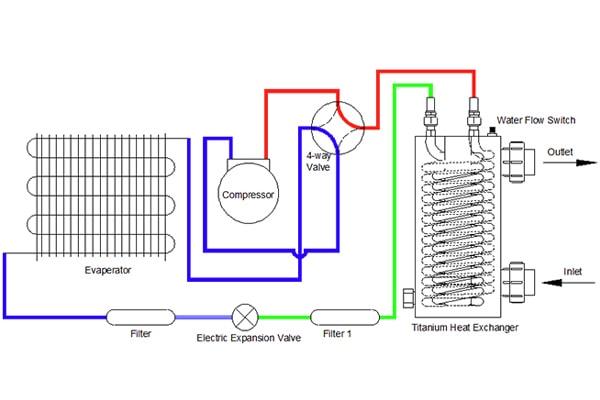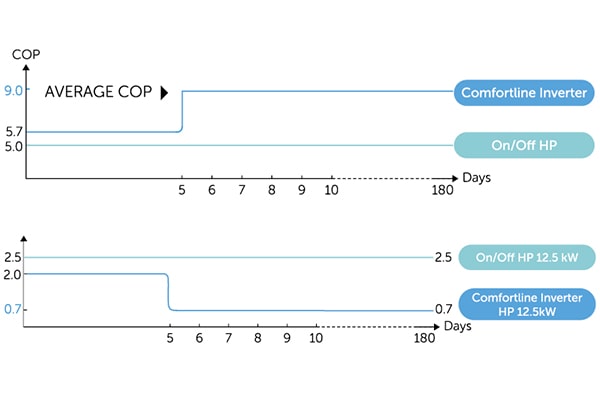 Average COP and power consumption
Average COP = 9.5 during the 180-day bathing season assuming A260C/W260C/H80%.
For the On/Off pump, the coefficient remains constant at COP = 5.0 throughout the 180-day period, while for the Comfortline Inverter pump, after 5 days of water heating (the beginning of the season), the coefficient reaches an average COP = 9.5
Average daily power consumption during the 180-day bathing season for a pump with a heating capacity of 12.5 kW, assuming A260C/W260C/H80%
For the first 5 days after the start of the bathing season, the Comfortline Inverter pump operates at 100% efficiency heating the water to the set temperature, and for the remaining 175 days it operates at an average efficiency of 50% covering only heat losses with an input power 35% lower than the nominal power. The On/Off pump, on the other hand, operates continuously at nominal power.
Which Comfortline Inverter heat pump model for my pool ?
Selection of the appropriate Comfortline Inverter BPNR heat pump is made on the basis of the volume of the pool, according to the indications in the table "Technical data".
For example, for a pool with a volume of 43 m3 according to the table "Technical data", the appropriate pumps are BPNR13 and BPNR17.
However, the manufacturer recommends that you always choose the larger model of the pump (in the example above it would be BPNR17). This will allow the pump to work longer at a lower speed (capacity) bringing the following benefits:
significantly higher COP, thereby providing at least half the
the cost of heating a swimming pool compared to on/off pumps.
faster water heating,
longer quiet operation time,
longer pump life due to less intensive operation.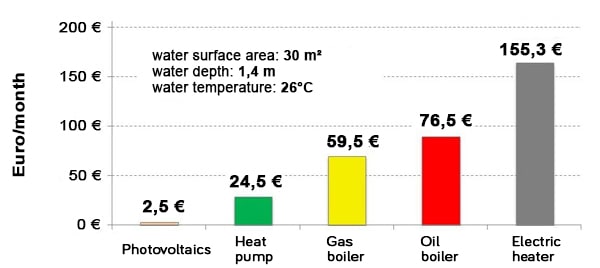 Model
BPNR07

BPNR09

BPNR13

BPNR17

BPNR21
Recommended pool volume (m3)
15 - 30
20 - 35
30 – 50
35 – 65
50 – 80
Air temperature range (0C)
od 0 do 43
Parameters at A26 C/W26 C/H80% - air temp/water temp/humidity
Heating power (kW)
7,0
9,0
12,5
16,0
20,0
COP - coefficient of performance
10,3–6,6
10,6–6,8
11,6–7,0
11,2–7,1
11,8–6,5
COP - at 50% efficiency

9,3
9,6
10,1
9,7
10,2
Parameters at A15 C/W26 C/H70% - air temp/water temp/humidity
Heating power (kW)
5,0
6,3
8,5
11,0
14,0
COP - coefficient of performance
6,0–4,8
6,1–4,5
6,3–4,8
6,4–4,7
6,5–4,6
COP - at 50% efficiency

5,8
5,7
6,1
5,9
6,1
Noise level at 1 m dB(A) distance
38,8-50,2
40,6-52,5
42,9-53,0
45,2-56,3
45,3-57,1
Compressor
GMCC Rotary
Heat exchanger (condenser)
Spiral titanium covered with PVC
Housing material
Metal with plastic covering
Power supply
230 V/50 Hz
Rated power
0,29-1,04kW
0,36-1,60kW
0,47-1,78kW
0,59-2,34kW
0,75-3,04kW
WiFi
Yes
Fuse (A)
8,0
9,5
15,0
20,5
23,5
Power supply cable (mm2)
3x1,5
3x1,5
3x2,5
3x4
3x6
Recommended water flow (m3/h)
2–4
3-4
4-6
6,5-8,5
8-10
Pool water inlet/outlet connectors
d50
Refrigerant
R32
Net dimensions - L - H - W (mm)
744x359x648
864x359x648
864x359x648
954x359x648
954x359x748
Net weight (kg)
42
46
49
60
68
Warranty
60 months for titanium heat exchanger, 24 months for other components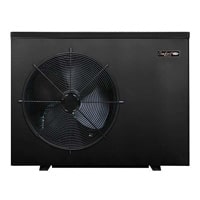 Pool Heat Pump Comfortline Inverter

Winter cover

Vibroisolators

WiFi module

Instruction Manual

| | | | | | | | |
| --- | --- | --- | --- | --- | --- | --- | --- |
| A | B | C | D | E | F | G | H |
| 590 mm | 308 mm | 349 mm | 954 mm | 350 mm | 74 mm | 648 mm | 648 mm |
Main features of the Fairland Comfortline Inverter:
Need help?
If you have not found the answer to your inquiry, please use the form below and write how we can help you?. We provide quick contact and comprehensive service.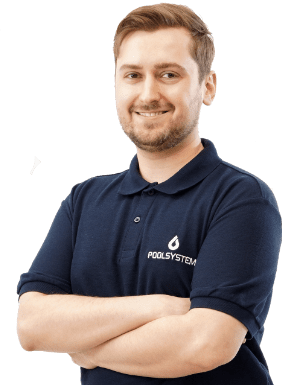 Tomasz Tomkowicz
Pool Technology Specialist
Thank you for reading our article, if you have more questions or need more specialized help - write to me using the form.
Jestem bardzo zadowolona z usług tej firmy. Każdy nam odmawiał pomocy, nawet firma montująca basen. Pool system zjawił się i doprowadził basen sprzed paru lat do stanu używalności, co więcej dokonał napraw uszczelniających co spowodowało ze basen stał się w pełni sprawny. Naprawdę polecam !
Bardzo miła i sympatyczna obsługa oraz fachowe doradztwo techniczne.
Bardzo profesjonalna i cierpliwa obsługa. Odbierają telefony, wszystko dokładnie wytłumaczą, wysyłają   praktycznie na drugi dzień  każdą część którą potrzebuje klient. Pan Krzysztof z serwisu rzetelnie podpowie co zrobić i jak rozwiązać swój basenowy problem, jeśli chcemy majstrować przy basenie sami. Pan Paweł i Marcin też skarbnica wiedzy technologii basenowej. Dobre ceny. Polecam firmę i pozdrawiam zespół POOLSYSTEM
Jak budujesz basen to to miejsce jest dla ciebie, osprzęt, doradztwo i miła obsługa.
Super obsługa doradzi pomoże,ceny na duży plus .Polecam
Bardzo mili ludzie, to naprawdę profesjonaliści. Nie lubię zakupów, ale spotkanie z Nimi było bardzo przyjemne.